Gallery - Genre and historical painting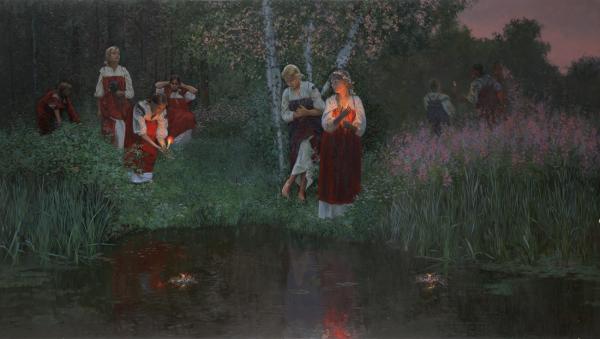 Ivan Kupala. Fortunetelling for wreaths.
Ivan Kupala. Fortunetelling for wreaths. 2009. Wood, oil. 150 x 85 cm. Author's collection. The idea of this painting is the search for a fortune. The meaning of it comes from the concept of the heathendoms and early Christians ceremonies. From of old the youth were looking for the fortune from the fortune tellers. Sometimes these superstitious beliefs were regarded as a kind of amusement and game. Usually the ceremony of fortunetelling took place in line with the local customs and varies from district to district. Christmas Day of Johan Ancestor was celebrated on June 24. Up-to-date it is still one of the most important and vivid celebrations in Russian Orthodoxy. This day is also regarded as a day of Johan Kupala. In heathendom Kupala is respected as Fertility Idol. It was generally accepted to bath in these days as this celebration were combined with pray to rivers and saint springs. In southern part of Russia and Ukraine on Johan Kupala's day the girls gathered together after sunset with the branch lines of willows (verba) decorated with flowers and bands – they reels in rounds. Fortunetelling with Chaplets was one of the kinds of this ceremony. Girls were to make chaplets, decorate it and put it into the water downstream. It was often that this chaplets were accompanies with the candles to be more visible. If the candle were not quenched so the wish should come true: who would be the one man to take this chaplet out of water is to marry this girl who made it.